We're getting properly into the course now at UCL, and with the first assignment due in less than two weeks, I'm planning to spend most of this weekend doing some serious business stuff like deciding on subject headings for books about rabbits! Other assignments include an essay on the possibility of a paperless global information society, and one comparing a digitised item with its real world equivalent. So lots to think about at the moment!
Even though I'm leaving the house at 7am to get to university for 9am, I'm quite enjoying commuting at the moment. The train journeys seem to pass very quickly as I'm racing my way through George R.R. Martin's A Song of Ice and Fire series. They are fantastic books, but I end up getting weird looks on the train when he dramatically kills off characters I really like and I go "nooooooo!" Maybe I'll have to switch to reading about collection management instead...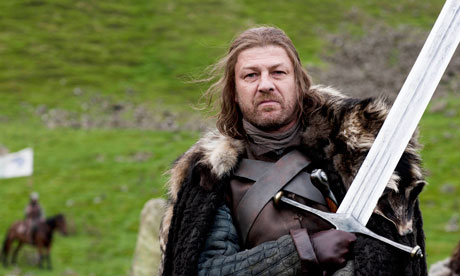 A perfectly justified Sean Bean photo
Meanwhile I'm still popping back up to Cambridge two days a week for work, which has been really nice. I've done a few induction tours for new students, and the last couple of days I've been in I have been typing up a handwritten card catalogue into a big Excel spreadsheet. Apart from a couple of indecipherable bits ("the author's name is....Snail?") this has been quite a nice project to work on. Also, even though I've only been doing my course for three weeks there's already been things we've learnt, especially in Cataloguing classes, that have made me better understand things I do at work. (But of course, having had a bit of practical experience of cataloguing has made the classes
so
much easier to follow!)
And on that note, it's time to stop procrastinating here and get on with those library school assignments!
PS: If you were wondering about the luminescent probes, we learnt yesterday that this was the first Library of Congress Subject Heading to be suggested by a Brit. Not tea making paraphernalia?